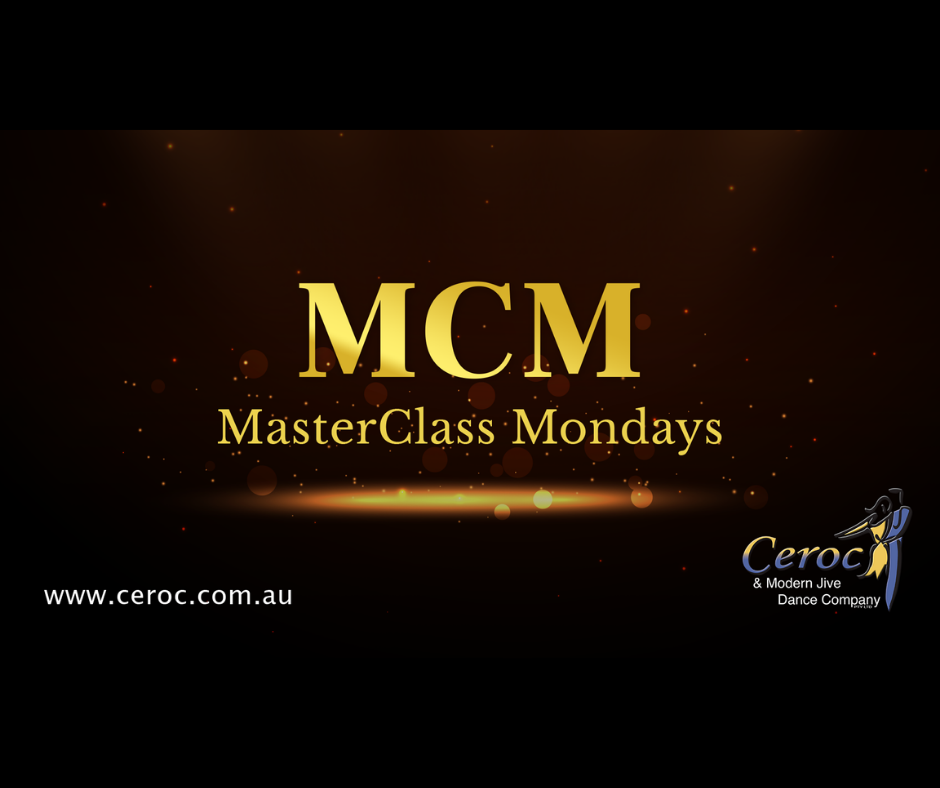 Our very popular MasterClass Mondays are for intermediate to advanced Ceroc dancers serious about improving their dancing, whether it be for competitions or simply to become a better partner on the social dance floor.
Each session includes an extended (75 mins) topic specific class with TWO TEACHERS followed by 30 minutes freestyle time.
And like all our classes at the moment, it's BYO Partner only, advance booking and prepayment required, and NUMBERS ARE LIMITED.
2021 Format and Pricing
Doors Open: 7.05pm
Tuition: 7.15pm to 8.30pm
Freestyle: 8.30pm to 9pm
Cost: $20 per person per night
No discounts during our temporary Covid timetable
Online booking and prepayment essential. Please read our strict Booking Conditions below.
2021 Dates & Topics
Currently advertised month by month due to the uncertain Covid climate.
MARCH 2021:
Monday 15th March
TOPIC: Movement & Creativity
TEACHERS: Nathan & Reasmey
OVERVIEW: Get back into the groove of your dancing by exploring some solo movement then adding in some basic Ceroc moves to bring inspiration to your dance.
Monday 22nd March
TOPIC: Feel The Rhythm
TEACHERS: Nathan & Julie
OVERVIEW: Extend your dancing beyond the basic beat and USE the music
Monday 29th March
TOPIC: IA/Advanced Techniques
TEACHERS: Nathan & Reasmey
OVERVIEW: Learn some of the key techniques required to master the more complex Ceroc moves
Booking Conditions and Cancellation Policy
1. Advance online booking is essential before the day of the class and bookings will not be confirmed until payment is received. Instant payment by PayPal is recommended.
2. Maximum and minimum numbers apply. If minimum numbers (5 couples) have not been reached by 5pm on the Wednesday prior to the class, the class will be cancelled by Ceroc & Modern Jive Dance Company and a full refund/credit will be provided.
3. No refund/credit/transfer is available for cancellation or no show at any time unless the cancellation is by Ceroc & Modern Jive Dance Company. If your plans change and you are no longer able to attend the workshop, you may transfer your registration to another couple/person (and please provide us with their contact details prior to the class.)
4. All participants are required to follow the relevant Covid safe procedures applicable at the time. Please read this short document for details.