Ceroc Dance Parties
Dance Parties are a great way to meet new friends, put your freestyle dance skills into action, and be inspired by dancers from all over Sydney all gathering on one dance floor to enjoy the friendly atmosphere of our Ceroc Dance Parties.
Most of our Saturday night Dance Parties kick off with a beginner class at 7.30pm, so first timers are always welcome! Then it's social dancing from 8.15pm until 11.30pm. At our Friday night parties, check the start times on the calendar below, and note that generally there will be no beginner class.
Our dance parties always have a very social atmosphere so are a great opportunity to meet up with new and old friends and perhaps even catch up for dinner in the venue restaurant/bistro before hitting the dance floor. Since it's a Friday or a Saturday night, it's usually an opportunity to get a bit more dressy too.
Keep your eye out on our newsletter for info on special features at dance parties – sometimes we'll have something extra like a theme, a routine demo, or a fun 'dance with a stranger' feature. We're always bringing you something different, so just watch out for the weekly updates!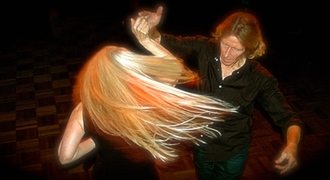 "I used to watch the scene in Dirty Dancing where they're all dancing and doing great moves and I wished that I could experience that one day……and now I live that dream, at every CMJ dance party!" Rose
The theme nights are absolutely great, I went to the disco night at Concord and had one of the best nights ever!" Philomena
"It's a great feeling to be surrounded by really nice people at dance parties, so much more enjoyable than a night at the pub!" John
Dance Party price list:
Casual Entry: $18
Unlimited Pass Holders: $15
Full Time Student: $14 (must show valid student ID)
Under 18s: $9 (recommended 12+ and MUST be accompanied and supervised by a participating parent/guardian)
Special Event Parties are priced according to the event.