UPCOMING ROUTINE COURSES:
Better When I'm Dancing
with Roz & Domenic

With the disruption to our normal timetable due to Covid, our choreographers haven't had the opportunity to create any new performance routines – but that's no reason why we can't pull out an old one!
Roz and Dom's Better When I'm Dancing routine from 2017 is SO much fun, and it's coming back! So, find yourself a partner, get your booking in, and be prepared to improve your dancing skills and feed off the energy of Pocket Rocket Roz and Dynamic Domenic!
Take a look at the original performance of this routine at our 2017 Ceroc Ball in this video.
LEVEL: Intermediate and above
PARTNER REQUIRED: Yes
PRICE: $140 per person for 12 hours of tuition (no discounts)
LOCATION: Willoughby (venue address will be emailed once booking and payment is received)
TIME: 2pm to 4pm
COURSE DATES: SATURDAYS x 6:
10th & 17th April – then one weekend off
1st & 8th May – then one weekend off
22nd & 29th May
Additional Costs:
Optional front and back view video footage of Roz and Dom dancing the routine so you can practise at home – $15 per couple.
At this stage we have no performance opportunity for the routine, so no costume costs will be involved. This may change if opportunities arise in the future and if you wish to be part of the performance.
Booking Conditions and Cancellation Policy
1. Advance online booking is essential before the course commences and bookings will not be confirmed until payment is received. Instant payment by PayPal is recommended.
2. Maximum (18 couples) and minimum (10 couples) numbers apply. If minimum numbers have not been reached by 5pm on the Wednesday prior to the course commencing, the course will be cancelled by Ceroc & Modern Jive Dance Company and a full refund/credit will be provided.
3. In the unlikely event of a Covid lockdown and/or tighter restrictions occurring, the entire course may not go ahead on all of the specified dates. If this occurs mid course, your payment will be transferred to continuation of the course on later dates.
4. No refund/credit/transfer is available for cancellation or no show at any time unless the cancellation is by Ceroc & Modern Jive Dance Company. If your plans change and you are no longer able to attend the course, you may transfer your registration for the entire course to another couple/person (and please provide us with their contact details prior to the course commencing). Transfer for one off dates within the course is not permitted due to the flow of tuition from week to week.
5. All participants are required to follow the relevant Covid safe procedures applicable at the time. Please read this short document for details.
6. Routine choreography remains the property of the choreographers and course participants may not perform or teach the routine without their prior permission. Any video footage of the routine remains the property Ceroc & Modern Jive Dance Company and may feature on public media including but not limited to our website, YouTube Channel and Facebook page.
---
Why Learn A Routine?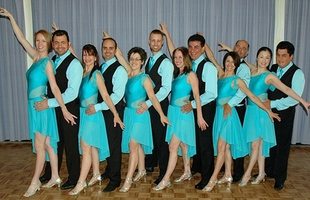 Looking for a new challenge in your dancing? Learning a choreographed routine could be your next step!
Each year we offer a number of routine courses, always with an optional performance goal at the end of the course.
Even if you choose not to perform the routine, learning it is a great social experience that gives you the opportunity to get to know dancers from your neighbouring venues, and can be very rewarding for every level of dancer.
Other benefits of learning a routine are:
enhancing styling and learning performance techniques
learning those finishing touches that make the advanced couples look great
aiding memory retention and increasing your repertoire of moves
increasing awareness of and appreciation for musical interpretation on the dance floor
appreciating and experiencing better techniques in your dancing
social interaction with other dancers learning the same routine
gaining confidence through performance that not only helps you in your dancing but in day to day life too!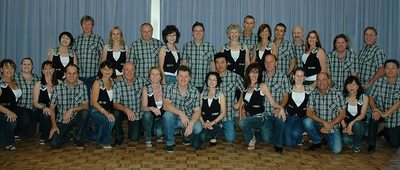 So, if you're keen to learn a routine, keep your eye out for what's coming up from your choreography crew and start looking for a partner. And on that note, check out our Routine Survival Guide too – you'll find it very informative and good advice for those who haven't learnt a routine before!
Ceroc & Modern Jive Dance Company prides itself on its high quality routines with thanks to some of the most experienced and creative Modern Jive choreographers in the country. Click here to view a list of their choreographed routines taught to students from 1998 to date.
See the top of this page for info on any upcoming routine courses.
For footage of some of our previous routines, visit our Ceroc Routine Performances page.
Commitment:
Should you or your partner have to miss a session due to unforeseen circumstances you will be expected to catch up via video or private lessons and a review of your performance will be conducted by your teachers before inclusion in performances.
For Champs Routines, Champs Crew couples will be selected based on their level of performance AND their commitment to all dates in the course including the two additional sessions.
All dancers learning and performing routines give rights for Ceroc & Modern Jive Dance Company to publish footage of the performance(s) on our website and other appropriate media. Rights to publish such footage remain with Ceroc & Modern Jive Company only.
---
Routine Survival Guide!
Whilst learning a routine is undoubtedly a fantastic experience, there can be some unexpected challenges that we'd like to tell you about!
Choose your level wisely, and if necessary ask the advice of the routine teachers. Decide firstly whether you're up to the challenge of learning a choreographed routine where you need to remember and execute a sequence of moves that can last between 3 to 4 minutes. If that in itself is a challenge, or if you are not confident doing multiple spins, dips etc, don't be afraid to sign up for a routine at a lower level than your current dance ability, and progress to a higher challenge next time. Doing a routine is as much about improving your dancing as it is about having fun. Doing a slightly easier routine can help to reinforce good dance technique in a way that a more challenging routine may not.
Ensure you have the time and dedication to put in at least one practise session with your partner between each scheduled rehearsal session. This is the key to performing the routine to your best. Also ensure that your partner has the same expectation and commitment.
Experience tells us that life partners unfortunately don't always make good dance partners during routine courses! Yes, there are many cases that prove us very wrong, but there are far more that prove us right! Why not consider both signing up for the same routine but with different partners? That way you go through the learning challenges with someone else, but you both spend your rehearsal days in the same place, and who knows, maybe you might get to perform it together at a later time.
Having ulterior motives for asking someone to learn a routine with you is rarely a good idea. Choose a partner who matches you on the dance floor, not on the dating scene! Coffee, brunch or movies is far more appropriate for a first date than Week One of the next intermediate routine course! Amorous intentions during routine courses are often not appreciated, and not only do you lose your chance of a date with that person, but generally you end up not completing the routine either!
Understand that everyone has a different learning style. If you've signed up for a routine with a new partner, understand how they learn. Think about how you give them feedback – they may not respond well to frustration and loss of patience. If in doubt about to give feedback to your partner, ask your routine teacher.
And remember, routines aren't for everyone. If you struggle to remember basic class sequences and prefer to just dance socially with no extra challenges, then maybe routines aren't for you. But for the rest of us – they're the highlight of our Ceroc year! Enjoy!