Your Wedding Day is one of the biggest days of your life and your first dance is one of the most remarkable moments that you and your guests will remember for years to come – so why not let us help you make it even more special?
Our Bridal Choreographer can help you with wedding dance lessons that will make you fabulous on the dance floor with your partner, even if you have no experience and you feel like you have two left feet. So if you want to impress your guests with more than a bridal shuffle, read on!
Looking for our wedding album full of photos of couples who have met through Ceroc classes? Click here
Why Choose Ceroc For Your Wedding Dance?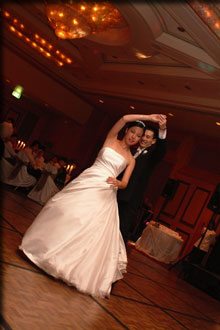 Ceroc is one of the easiest partner dances to learn, so is perfect for new dancers especially if you want something a bit different for your wedding dance. You can achieve quite a lot in a short amount of time and create a great dance that wedding guests will definitely be impressed with!
The thrill you will get from the look on your guests' faces when they see that you can actually do more than just rock from side to side will be one of the highlights of your wedding day!!
With Ceroc & Modern Jive Dance Company, you have the benefit of the experience of our Director and Bridal Choreographer Julie Gunn, who makes learning to dance fun and stress free!
When Should We Start?
Ideally, if choosing the Wedding Package (see lesson options below), you should work backwards 6 to 8 weeks from your wedding date, and schedule one hour per week, finishing on the weekend prior to your wedding. This allows for the inevitable stresses of the final week to take priority when all dance lessons have been completed.
Having said that, our experience extends from teaching an entire bridal party over a nine week period, to a couple cramming 5 hours into the last two weeks before their wedding, and even one couple calling us two days before the wedding for a last minute crash course – so anything goes!!
What Will We Learn and Will It Work With The Dress?

What you will learn will be dependant on your experience and ability, but we will structure your dance around what you want and of course matching your chosen piece of music.
You'll learn enough simple but impressive Ceroc moves to fit your song, usually including a very safe "dip" to finish your dance off with an impressive flourish for a great photo opportunity at the end!
And as for the dress, no problem! Our Bridal Choreographer is experience in teaching moves with the dress in mind and has even been known to rehearse in secret with the bride in her dress just to reassure her that it's going to be alright on the night! The exception would be where a long train is involved, but usually your dressmaker can make provision to hook it up.
Can We Choose Our Music?
Absolutely! We recommend that you do choose your own music, as it should be something that is personal and special to you and your partner. As long as it has a consistent beat and is not too slow, it will be easy to dance to. Talk to us for advice on what kind of musical structure works for Ceroc.
We recommend using a piece of music no longer than around 2.5 minutes, and most songs are longer than that, but options are to either fade the song out, to invite your bridal party on to join you, or we can usually edit the original to make a shorter version for you.
If you're stuck for ideas, we can offer you some suggestions from our library. Popular choices include:
Marry Me – Jason DeRulo
Just The Way You Are – Bruno Mars
Love Is In The Air – John Paul Young
Can't Take My Eyes Off Of You – various covers
It Had To Be You – Harry Connick Jnr
My Baby Just Cares For Me – Nina Simone
Hero (dance version) – Enrique Iglesias
You're the First, the Last, my Everything – Barry White
Sway – Michael Buble
Who Will Be Teaching Us?

Julie Gunn is our Director and Bridal Choreographer, and she looks after most of our couples. When Julie is fully booked we have a number of other specialist teachers trained by Julie and experienced in working with the needs of brides and grooms and same sex couples for their special dance.
Julie has been teaching Ceroc since 1996, and specializing in our wedding packages for much of that time.
She has taught many couples, in addition to entire bridal parties and parents, each time using different choreography ranging from the most easy to learn moves for novice dancers who claimed they had two left feet, right up to precise choreography that matched certain parts of the music and was danced as a cabaret style performance.
Julie can also teach very basic waltz, and sometimes couples do like to start with their dance with this traditional style before they launch into Ceroc to modernize the dance and to surprise their audience.
Julie focuses on the fact that your wedding dance is a very special part of your day, and that it has to be right for you. She will discuss at your first lesson what you want to achieve, and will make sure that you learn something that you are comfortable with, that is going to surprise and impress your guests, and that you are going to look back on and remember as one of the highlights of your big day.
Pricing and Packages
Option 1 (the most popular option):
5 hours of private lessons. Most couples purchase one package, but you can of course choose to do more than one if you wish, or to top up the package with some single lessons as detailed in Option Two.
The cost per package is $450, payable at or before the first lesson. Prepaid lessons are not refundable if only part of the package is used.
The five hours can be structured according to your preference – eg five single hours over five weeks, or over a shorter period by doing 2 x 1.5hours and 1 x 2hours.
Option 2:
Single private wedding dance lessons at $95 per hour. This can be paid as you go, so you can decide from lesson to lesson how many more you would like to have.
Top up lessons to extend the Ceroc Wedding Package (option 1) are $90 per hour.
Note both of the above options may attract an additional venue hire fee of up to $25 per hour depending on where the lessons are conducted.
Option 3: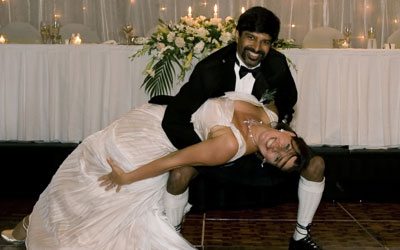 Group classes at any of our venues from $15 per person. Please check the classes page for up to date information on our venues across Sydney.
Other Options:
Please contact us for information and pricing on other options to include lessons for your bridal party and/or parents.
Gift Certificates
Not getting married yourself, but you'd like to give something a little different as a wedding gift? Gift certificates for Wedding Packages are available. Contact us for more information.
Customer Comments & Contact Information
Read the testimonials from couples who have chosen Ceroc Modern Jive for their wedding, plus take a look at some of our previous couples dancing on Youtube.
For more information on our Bridal Ceroc Options please contact [email protected] or call 0418 426 401 for more details.